"By sharing Jesus with my neighbors, I am reciprocating the great love of Christ toward me," Rosa shares.
When Rosa was lost, someone brought the light of Jesus to her life. Now Rosa helps lead outreaches with her church in the Chiapas region of Mexico. 
When we follow the way of Christ, it leads us to others. Our faith is a journey of connection and growth. And at Every Home, we're always looking for ways to come alongside believers on that spiritual journey—we care about long-term discipleship. 
This often starts with local churches. "As pastors, we are always thinking of new strategies to continue reaching people for the kingdom of Christ," shares Pastor Diego, who leads a church in Chiapas. "I asked the Lord for a project to help my congregation become passionate about preaching the good news." 
Pastor Diego heard about Every Home's Love Your Neighbor project from a fellow pastor.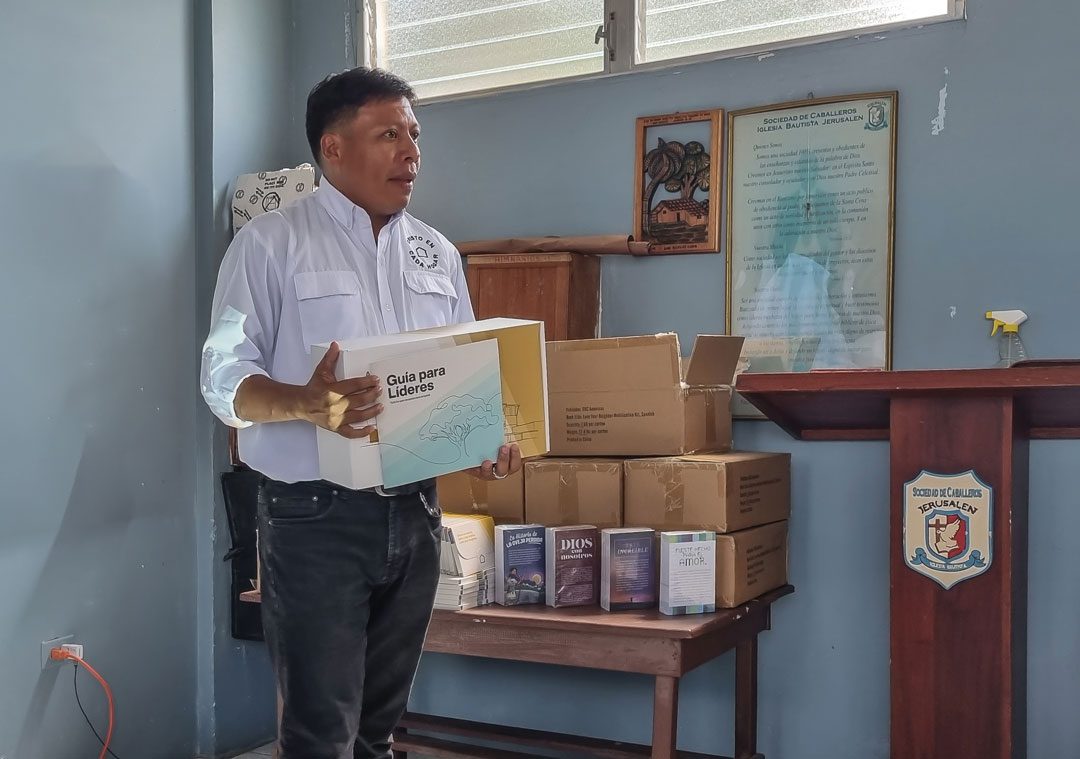 The Love Your Neighbor kit, shown above, is an innovative toolbox that includes everything a pastor or church leader needs to invite their congregation to live out the gospel and embody the love of Jesus—sermon outlines, workbooks for believers, and enough gospel literature to help over 1,000 people encounter Jesus. 
"It is exactly what I asked the Lord for," Pastor Diego says. "It's been a great blessing," Diego says, "especially for believers who have never shared their testimony. Now, they are confident and joyfully speaking to people about Jesus."  
When believers are meaningfully discipled in the love of Jesus and the fellowship of his people, light spills out from the church into communities. 
Yesica had always been curious about the church near her house but never had the courage to investigate. When Pastor Diego and some of Yesica's neighbors visited her home, they embodied kindness and gentleness Yesica had never known before. 
"My first contact with the gospel was a message titled: 'You Are Amazing,'" shares Yesica. "The message asked: 'Has anyone told you that you are amazing?' I realized no one had ever told me that. I realized that, to God, I was amazing!" 
Yesica is now part of a discipleship group, growing in Christ.  
"I would have never imagined he had always been so close to me," Yesica says, "I thank God that my neighbors decided to visit me. I have invited my other neighbors to come and listen to God's word." 
Rosa shares a similar story. When she visited one of her neighbors, Maidani, she began to cry. 
"Some time ago," Maidani said, "I went to a church, but I distanced myself from God." Rosa's visit proved to Maidani that God hadn't turned his back on her even when she thought she'd walked away from him.  
"The message asked: 'Has anyone told you that you are amazing?' I realized no one
had ever told me that. I realized that, to God, I was amazing!"
Since Rosa visited Maidani and prayed for her, Maidani has been embraced by her church family. Rosa believes the transformation God began in Maidani's family will ripple out to touch even more lives. "In the future, Maidani and her children will testify to their neighbors about how wonderful the Lord is," Rosa says.  
Discipleship for believers worldwide starts with local churches, but it also starts with you. Your prayers and gifts support believers with practical resources for their journeys of spiritual formation— resources like the Love Your Neighbor kit, gospel literature, discipleship tools, and Bibles. Are you ready to join them? 
The light of the gospel in one heart fills up a home, shines down the street, and touches a whole community. It's too bright to be hidden. It's filling the whole world.