Every Home for Christ
At A Glance
Our Purpose:
to carry Christ to everyone, everywhere, in every generation
Our Mission:
to inspire and empower the Church to carry Christ to their world
Oikos:
an initiative launched across the ministry of Every Home for Christ in 2019—our purpose, at scale, with a generational timeframe—to carry Christ to everyone, everywhere, by 2038
Need this row to activate the down arrow icon for summary section.
What We Do
We inspire and empower the Church to carry Christ to their world.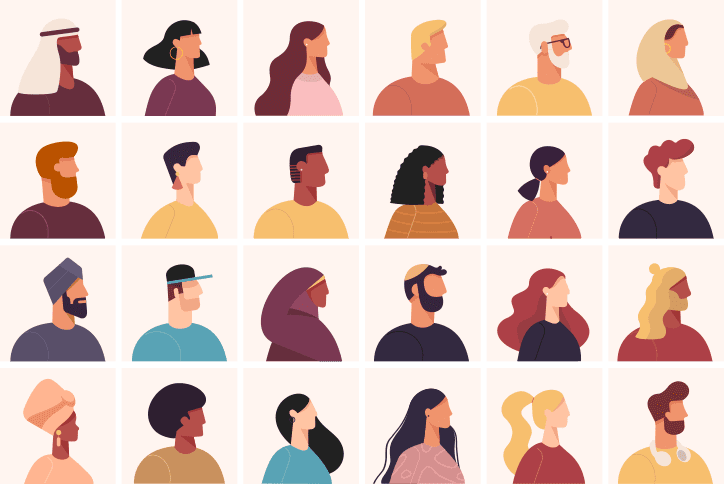 Mobilized Believers per month in 2022
Monthly Mobilized Believers in:
"Mobilized" = trained, equipped, and sent
Total Church Engagement Materials Distributed
What Happens Next
People carry Christ to their world.
Total People Impacted (potential)
Total Gospel Presentations
437,366,509 homes reached

106,622,760 in public

7,735,509 at events/concerts

63,837,279 engaged digitally

3,913,078 reached by mail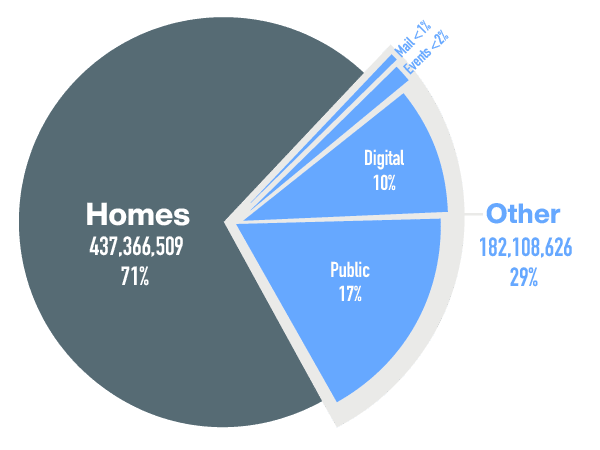 Total # of Individuals Receiving Gifts/Aid
Total Outreach Materials Distributed

Transformative Results
Connection and Redemption
We witness the Lord using and multiplying the work of our hands.
Total Bibles/NTs/Discipleship Materials Distributed

One Bible icon represents one million resources distributed.
Total New Christ Groups Started
Christ Groups are started where a local church doesn't exist.
Total New Individuals Connected with a Church or Christ Group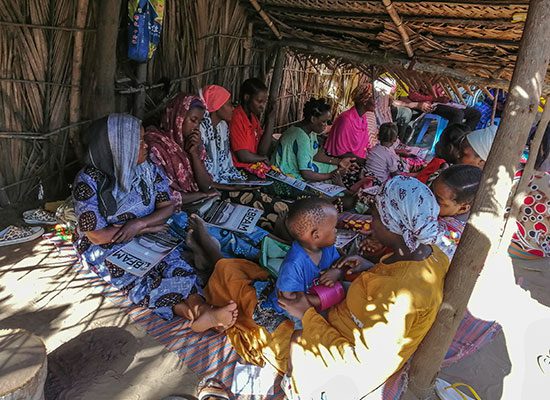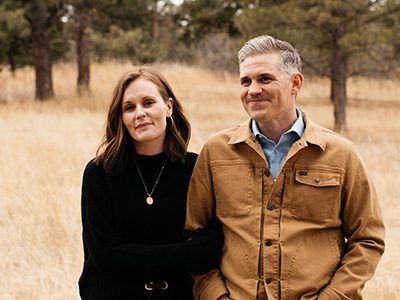 At Every Home for Christ, we love stories. We pay attention to the stories of what's happening in the lives of real people and communities as a result of our ministry activity around the world. We also care about sharing those stories with you because you play a key role in them by partnering with us. Authentic testimonies of the Lord's work in the lives of people all over the planet bring us together. They cut through our denominational divides and theological disagreements to remind us of the one thing that matters: our shared calling to carry Christ to everyone, everywhere, in every generation. 
Yet stories aren't the only way we look at this. We also pay attention to the numbers. The global Every Home fellowship is a community of "numbers people": in over 150 nations, our local leaders are counting the actual cost of literally reaching every single person in their nations and communities—down to the one. That's how we make sure we don't miss anyone. 
Today, Every Home ministries around the world are compelled by the Oikos initiative: our commitment to carrying Christ to every person, everywhere, by the end of 2038. Oikos is a generational rally cry we launched across our ministry in 2019. Anchored in our belief that every single person is valued and dignified in the eyes of a God who is love, Oikos is a faith-filled willingness to do whatever it takes to make sure no one gets left behind.  
In this annual report, we're using numbers to tell the unfolding story of Oikos as we report on ministry activity for 2022. We're visualizing what it will take to carry Christ to everyone, how far we've already come, and the work that remains. We're celebrating all that the Lord has already done, and we're staying focused on what's ahead—on who is ahead. We look at numbers because they represent real people. We count down to the one because the one is a beating heart with a longing soul in need of Christ. 
The story this tells follows the story of redemption. It's the good news that God so loved the world, that Christ came to us, and that Christ builds and sends his Church into the world for the sake of all mankind. It's the hope that he's making all things new. Oikos is some small part of giving our lives to be part of that story.
We're a global fellowship of local catalysts committed to seeing the story of redemption flourish in the Church. We inspire and empower the Church to carry Christ to their world. As a result, people carry Christ to their neighbors and communities in ways that make sense to them. 
Your impact in this story cannot be overstated. Because of you, believers across the globe are being inspired and empowered to carry Christ to their world. The global Church is growing in its redemptive capacity because your generosity means greater access to visionary partnership, training, and resources. Local believers are expanding their reach, taking responsibility to carry Christ to their circles. We'll never be able to comprehend the impact of this work, but our trust in the Lord leads us to believe it's changing the world according to his will.  
May you be encouraged and inspired by this report. On behalf of this global network of local catalysts of redemption—thank you. 
For everyone, everywhere, in every generation,
Tanner Peake
Every Home President/CEO
Financial Stewardship Report
Every Home for Christ
World Literature Crusade
Founded in 1946
Charter Member of ECFA since March 1, 1980
Fiscal Year 2022
Total Expenses
$59,385,738
Total Liabilities
$4,037,729
Every financial decision is made in light of how our resources can best be used to reach and disciple more people. We steward these gifts with much thought, prayer, and consideration.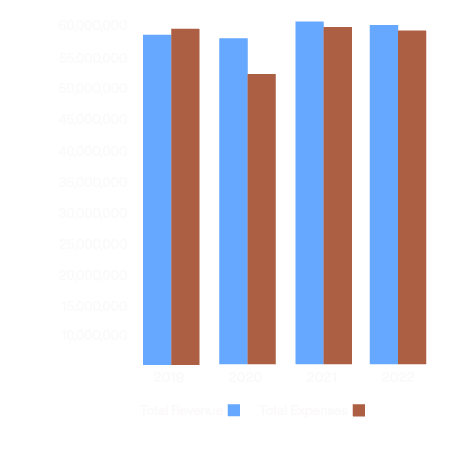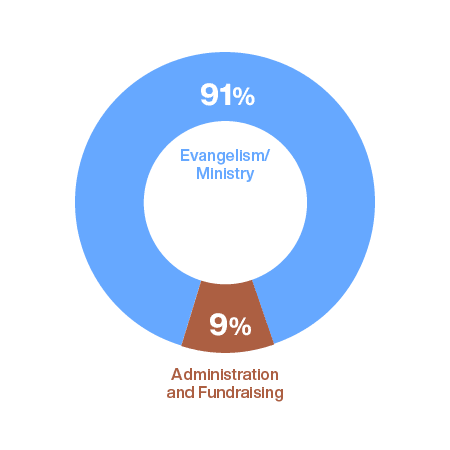 EXPENSES
FY 2020
FY 2021
FY 2022
Evangelism/Ministry
$48,882,972
$54,782,405
$53,871,486
Administration
$2,274,975
$2,968,785
$3,347,221
Fundraising
$1,192,680
$1,901,110
$2,167,031
Total Expenses
$52,350,627
$59,652,300
$59,385,738