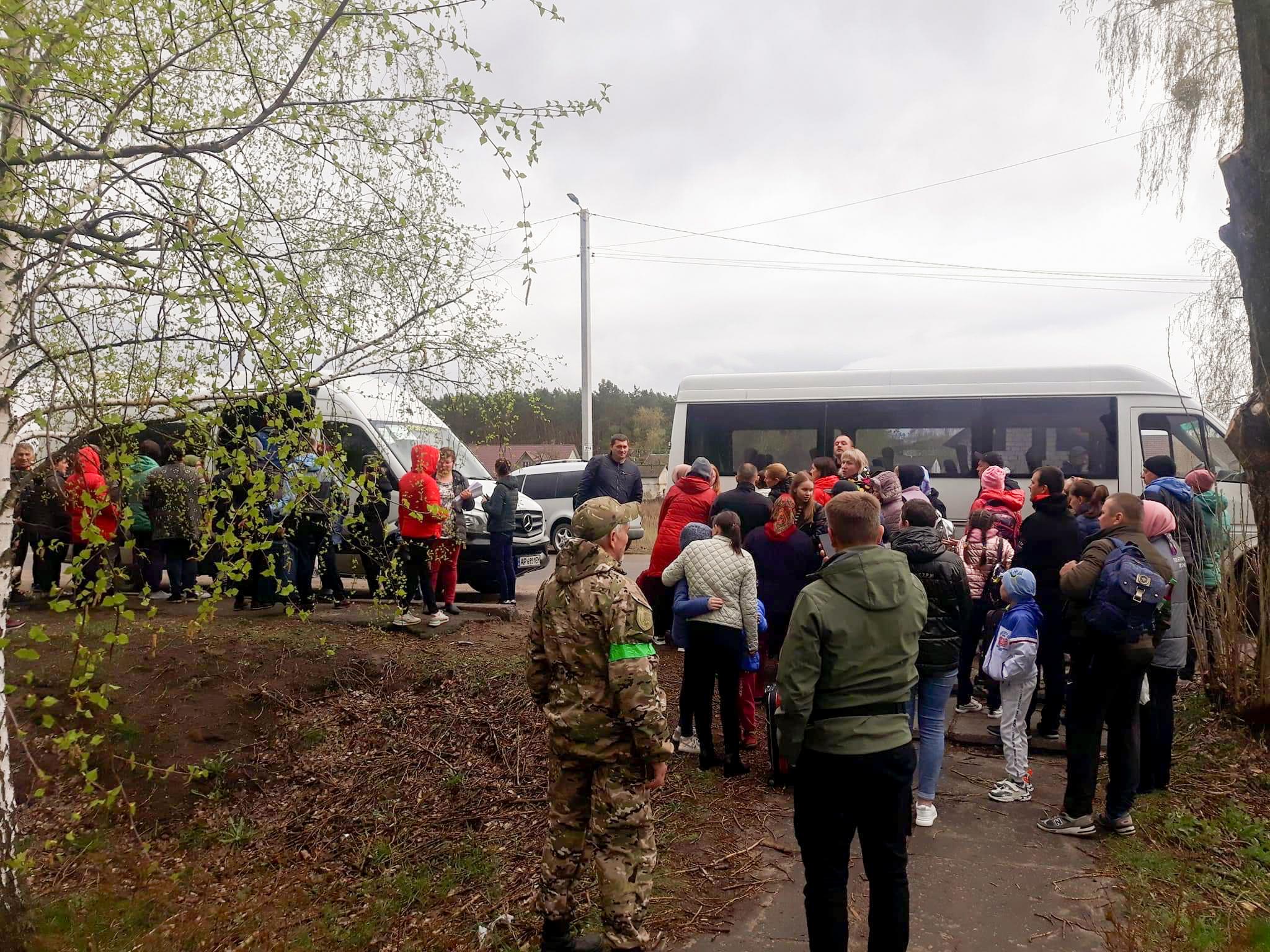 It's morning, and the spring sunlight is slipping down Slovakia's High Tatras mountains like condensation on a cool glass of water.
And it's quiet. For the first time in weeks, Bohdan and his family are able to rest.
First, there was the cacophony of the rockets, piercing the air and shattering homes as Bohdan, his mother, his aunt, and his two little cousins fled the war-torn region of Kyiv. Then, the family spent weeks in shelters without food, electricity, running water, or heat, surrounded by the cries of hungry children and coughs brought on by the cold. Finally, after waiting amid the rumble of miles of cars to cross the Slovakian border, they arrived at a refugee center set up in the Free Evangelical Church of Prešov in Slovakia.
Countless homes have been destroyed.
A subway station serves as a shelter for thousands of people in Kyiv.
The next morning, Bohdan and his family sat in the comforting quiet of a van as a member of our Every Home family drove them to a more permanent place to call "home."
Our Every Home team in Slovakia has developed a relational process to receive refugees, provide for their immediate needs, assist them with paperwork, and help them get settled into more permanent living situations.
Driving away from the refugee center with the High Tatras rising in the distance, the Every Home team member turned to Bohdan and asked how he had slept the previous night.
"Very well," Bohdan answered. "After a long time, I experienced silence at night. In the morning, I was awakened by the birdsong."
A good night's sleep. A quiet morning drive. A patient person's help with a complicated government form. Gifts that might seem small are changing lives in Eurasia.
"We have experienced a wonderful spirit of giving among all our donors and partners," reports Gabriel Kosmály, Every Home's area director over Eastern Europe. "Many countries were unprepared, but churches stepped in and did what they could."
Humanitarian convoys run constantly, delivering food to those in need and transporting people west to safety.
While government agencies and non-profits were unprepared, local believers were already on the ground. They opened their homes and churches, drove their cars to the border, and started cooking.
This kind of monumental effort and united response has only been possible because believers on the front lines know they can rely on support from their brothers and sisters in Christ across borders and oceans.
In this crisis, the family of God has shone brightly. We are connected by bold faith, shielded by constant prayer, and supported by unwavering love.
And into this family, which is so markedly different from our self-interested and isolated world, we have drawn thousands of refugees. As families are separated and millions suddenly find themselves unmoored from their old lives, the simple assurance of knowing they are not alone is a precious gift.
"We are connected by bold faith, shielded by constant prayer, and supported by unwavering love."
"Now more than ever, these refugees need to know that there is Someone who cares for them," Gabriel says, "that this Someone took the road out of their homeland with them, that he was there every step of the way."
Jesus stands in the middle of the suffering, his love evident through his people.
Since the conflict erupted in February, Every Home teams have been on the ground, sharing the truth and love of Jesus. Through your prayers and gifts, you have joined the global family of God as a beautiful witness.
In gratitude to our Every Home family, we are excited to announce that we more than met the $100,000 match for Eurasia crisis response! You raised a total of $233,348! You fueled vans in rescue caravans traveling to the most war-torn region, clothed children who had lost everything, and placed Ukrainian Bibles in the hands of people far removed from everything familiar, even their own language.
Ukrainian refugees find a safe haven in Slovakia.
Our world is broken. It aches for redemption. Every day, on every continent, Every Home teams enter disaster, tragedy, and desperation with the love and hope of Jesus. They hold, weep, embrace, and shelter. The remarkable response of the Body of Christ to the crisis in Eurasia is just one story among countless expressions of Jesus' love, presenting a startlingly beautiful depiction of Jesus' words in Matthew 25:35 and 40:
"For I was hungry and you gave me food, I was thirsty and you gave me drink, I was a stranger and you welcomed me… Truly, I say to you, as you did it to one of the least of these my brothers, you did it to me."
Like the peaceful light running down the High Tatras mountains, the love of Jesus is washing over Eurasia, one cold glass of water, one warm bed, and one helpful friend at a time.