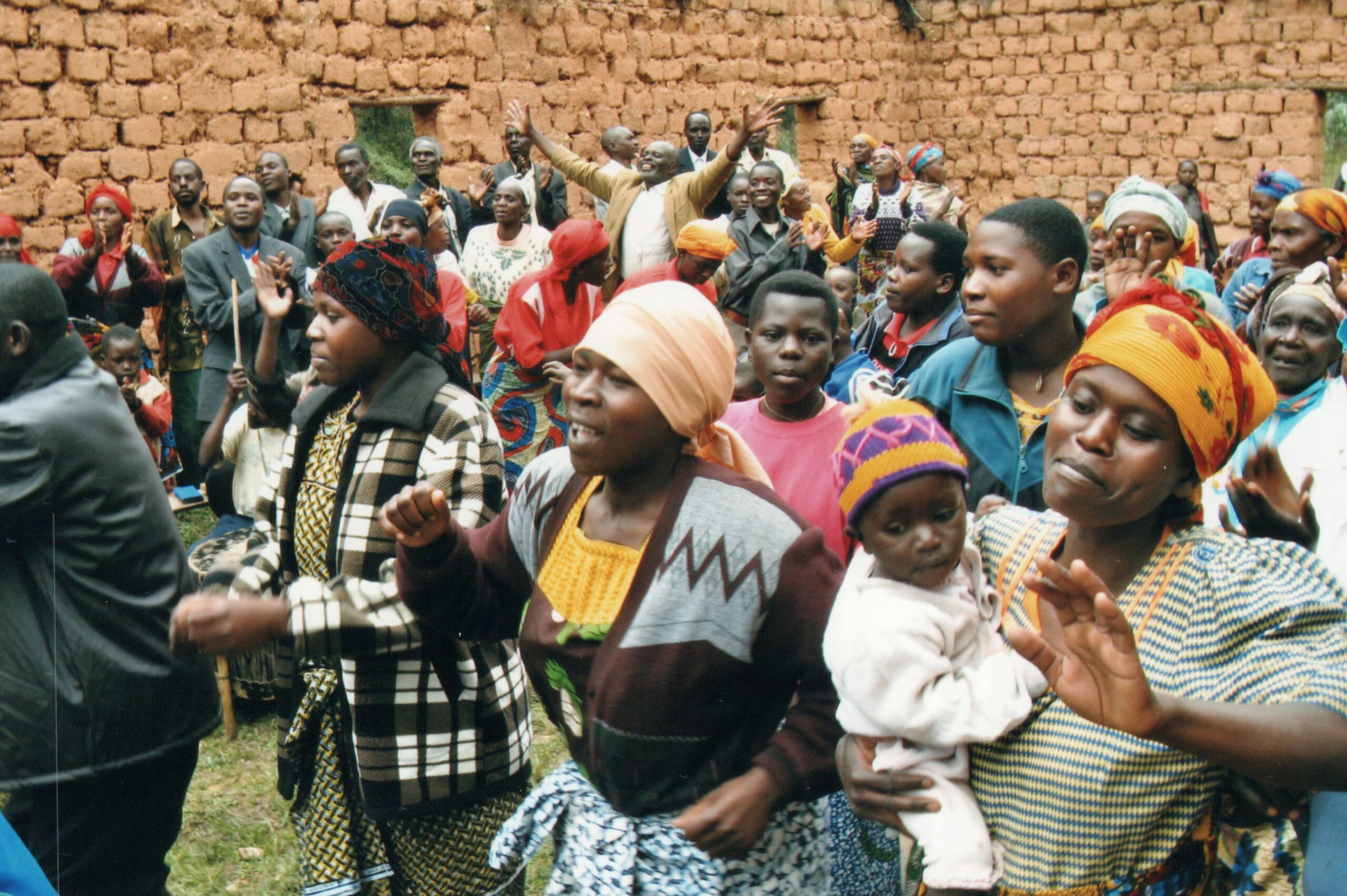 The children pictured here, talking with an Every Home team, don't remember the Rwandan Civil War, but Muhirwa Olivier does. His painful memories formed a barricade between him and the church.
"After the genocide against the Tutsi, I refused to go into churches for Sunday services," Muhirwa explains.
Since the Rwandan Genocide, beginning in April 1994, in which Hutu forces killed between 500,000 and 1 million Tutsi and moderate Hutus in 100 days, the attention of the world has turned to other conflicts and tragedies.
Muhirwa, however, has carried the grief and bitterness of the violence against his people for 27 years, until a new crisis rocked his community — the COVID-19 pandemic.
Lonely and isolated during his region's lockdowns, Muhirwa longed for friendship.
"I wished to listen or to [find] someone who could share the message of hope with me," Muhirwa said.
The cry of Muhirwa's war-scarred heart did not go unheard. Soon, an Every Home team knocked on his door.
"God heard me and sent his servants," he relates. "After listening to them, I came to know God's plan for my life, that he sent his Son to save my life. Even his Son died for us."
"God heard me and sent his servant. After listening to them, I came to know God's plan for my life, that he sent his son to save my life. Even his son died for us."
Muhirwa knows the pain of loss and the enormity of love that would sacrifice the life of a son for an enemy.
"I immediately received Jesus Christ as my king and Savior," Muhirwa said. "This method of reaching people where they live is the best way to connect people with God. I was desperate, but now I have hope in Jesus Christ, my Savior."
Muhirwa is not alone in his pain or his new hope. Elsewhere in Muhirwa's village, a young man named Mugeni Noella thought that God had forgotten him. Mugeni was only a child during the genocide that defined Muhirwa's life, but he has also known loss and loneliness.
"I am a widower, and my life was hopeless," Mugeni shared. "God's servants came and shared the message of hope through a booklet titled 'I Knew You While You Were in Your Mother's Womb, Jesus' Wonderful Salvation.' Now I know that God did not reject me… No matter what will happen, I don't fear my future."
Mugeni's words echo God's promise of restoration to a ravaged Israel in Isaiah 54: "Though the mountains be shaken and the hills be removed, yet my unfailing love for you will not be shaken, nor my covenant of peace be removed… you will have nothing to fear."
In that same passage, God promises that "all your children will be taught by the LORD, and great will be their peace."
Though their parents and grandparents carry the grief and memories of war, Mugeni's generation and today's children across Rwanda will be taught by the Lord through the work of Every Home teams.
Across Rwanda, Every Home teams encounter stories like Muhirwa and Mugeni's. Lonely, rejected, hurting people, long-defined by ethnic conflict and being "other" than their countrymen, are amazed — "Can the love of Jesus come all the way here, across these deep divides and barriers? Can it reach even me?"
The answer is, of course, that the love of Jesus is urgently traveling to broken places and especially seeking outcasts.
Jesus changes everything. The truth and love of Jesus are for all of Rwanda's children, and despite the scars of war, great will be their peace.